I have a new, more Zen approach to life and Covid now. As those who ride with me will attest, I have been becoming more and more frustrated and angry about the virus, how we are dealing with it and how it has wrecked 2020 and shows no signs yet of being much kinder in 2021. I don't know quite when the epiphany happened – it wasnt one of those 'fall off your horse' moments, just a dawning realisation that working myself into a lather over things I can't really control or even affect wasn't helping anyone, least of all myself. And certainly not my poor cycling buddies.
So, it will be what it will be. Sure there are things that I can't do, but I can still ride my bike. Frankly, even if that has to be in the shed, on zoom with my fellow turbo-beaters, it's not that bad. If we have to continue to navigate the rules about what we can and can't do until we're all vaccinated, then so be it. In the meantime, I'm just going to go out on my bike as long as the weather is bearable and with as many buddies as I'm permitted. I'm going to sort my feet out though, because last Sunday was cold and wet and that spoilt it a bit.
So, deep breath, stop fretting about mop-headed blondes, wierd-eyebrowed scientists and whether you even like scotch eggs. Get your bike out because it's the weekend and there's some riding to be done.
Post-ride Coffee @ Rule#19
I think the award for the most welcome sight of 2020 goes to Winnie with his log-burners (plus coffee & brownie of course) to toast my frozen toes. If there is one thing I'd find hard to remain zen about, it would be losing the post-ride break at Rule#19. Good to see many of you there.
Sunday Rides
For this Sunday, sign up on RiderHQ for the ride of your choice. It is open for booking at 6.00pm today. Don't panic if you don't get on a ride, we are putting on extra groups each week and please put your hand up if you're okay to lead an extra group. Just let Niki know. More detailed instructions on the website.
| Ride | Leader | Departure location | Departure time | Distannce (Miles) | Speed (MPH) |
| --- | --- | --- | --- | --- | --- |
| Long 4 | TBC | SE20 Cycles | 7:15 | 45-55 | 17+ |
| Long 3 | Kate Vergette | Crooked Billet | 7:30 | 45-55 | 15-16 |
| Long 2 | TBC | SE20 Cycles | 7:45 | 45-55 | 13-14 |
| Long 1 | TBC | Crooked Billet | 8:00 | 45-55 | 11-12 |
| Short 4 | TBC | SE20 Cycles | 8:15 | 30-35 | 15-16 |
| Short 3 | Nick Brun | Crooked Billet | 8:30 | 30-35 | 13-14 |
| Short 2 | Lucy Stylianou | SE20 Cycles | 8:45 | 30-35 | 12-13 |
| Short 1 | Justin Keen | Crooked Billet | 9:00 | 30-35 | 11-12 |
| Steady | Andrew Stroud | SE20 Cycles | 9:15 | 24-27 | 10-11 |
Quite a lot of TBC right now. Volunteers, please!
New Penge CC Kit
Much discussed – now so close to reality. Kate, Andy et al and the Le Col team have been beavering away getting our new kit supply arrangements set up, just putting the finishing touches on the final designs and on the new online shop. The plan is to launch the shop next week, ready for you to start ordering kit that will arrive in early 2021. Look out for an announcement on Monday.
Kit samples are in SE20 Cycles for you to look at. This is tricky, because we'd love you to be able to feel it, try it on and make sure it's the right fit. My suggestion is that you have a good look at the sizing chart. (Attached to this email) and measure yourself so you are pretty sure you have the right size. If you are not sure, you can try the sample on – but please a) Be respectful of Winnie's business. He is busy with customers and doesn't have much space for this. b) Use the anti-bac spray provided for the samples once you've tried them and hang them back up nice and tidy.
Lockdown 2.0 Photo competition
You'll recall I asked for photos to kick off our new club Instagram account and thank you to all who contributed. Lots of great pics, all of which you can find on #pengecycleclub.
The third place represents my only ever podium position (in a photo competiton) for the photo I took of Kate and I resting on a bench in a graveyard. Second place went to Smitta and Paula for their 'Enjoyable trip to Downe' pic. Great to see Paula back in the saddle!
But in first place, with this great picture, was Elisabetta: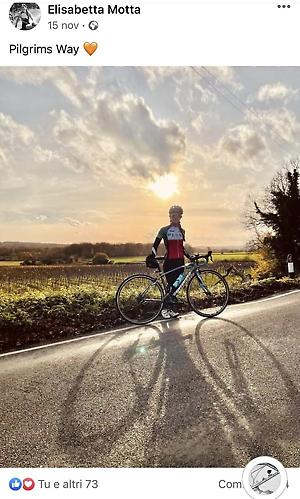 Keep those pictures coming.
Christmas Ride – 20th December
Don't forget the David Watts special ride – it would be great to see a good turnout for the 'Penge Winter's Tale' ride to Christmas Lane, near Rochester. Check out the details on our Club's Facebook page.
Strava Leaderboard

Some impressive distance there from John Haile. No change there. (I left that line from last week!) Clare and Tash regulars too. Maybe Emily doesn't get the credit she deserves because she consistently bangs out these big rides. David, you would have got the 3rd longest ride too – but our friend from a village called Ambernath, a short distance from Mumbai on the west coast of India nicked it. Impressively, he is a member of some 400 Strava clubs, though maybe one less now.
I'm thinking of making our Strava group invitation only. Any objections?
Closing Thoughts
Have a great weekend.
James Hanscomb, Chair of Penge Cycle Club.